While we'd have to admit that we ain't exactly saving lives (except for maybe Lady Gaga's), most of us fashionites would argue that major fashion moments really do change the world....well, at least our world.

London's famed Design Museum agrees with us! Their new book, 50 Dresses That Changed the World singles out the most notable dresses over the last century, spanning from Mariano Fortuny's multi-pleat Delphos dresses from 1915 to Hussein Chalayan's LED dress from his 2007 Airborne collection.


For any former fashion student, this book reads like a trip down memory lane. For any fashion newbie, this book is like the bible. But wait, where are the accoutrements you ask? Get this, they've released 50 Shoes that Changed The World too! Check out my fave looks from the book below:

From left: Madeleine Vionnet's Goddess Dress was a Grecian vision back in 1931, Gianni Versace's Safety-Pin dress, made famous by Elizabeth Hurley in 1994, Marilyn's Seven Year Itch Dress from 1955 made by Travilla.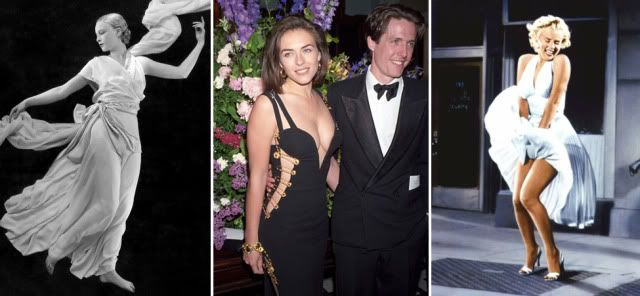 A newer version of Yves Saint Laurent's 1965 Mondrian dress, Rudy Gernreich's Topless Dress, pictured here in 1970 with pastied-up models, Halston's breezy Halter Dress, pictured here at the height of disco daze with Marisa Berenson in 1977.