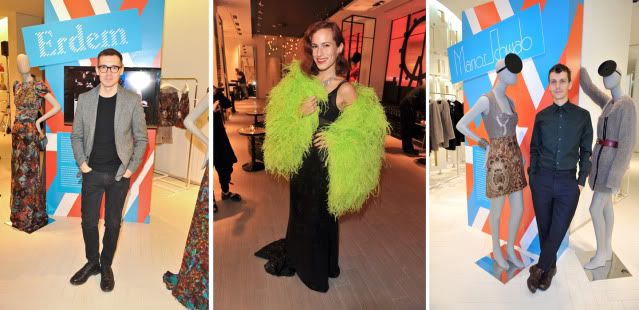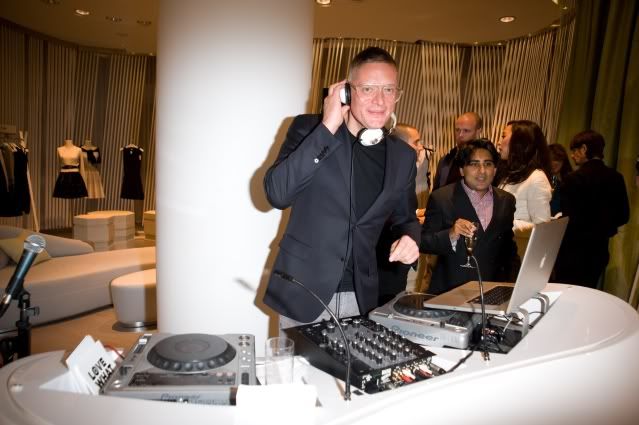 Fake Toronto Fashion Week, otherwise known as the week before the officially scheduled shows, kicked this season off with a series of calculated bangs, the biggest of which being The Room at The Bay's British bonanza, celebrating eight of England's finest designers, Giles Deacon, Erdem Moralioglu, Charlotte Olympia Dellal, Jonathan Saunders, Mark Fast, Marios Schwab, Mary Katrantzou and Nicholas Kirkwood, last Thursday night. The night, which was surely a thrill for anyone present, was especially titillating for me, considering my downright obsession with these designers! No, really!
I was covering the event for V Magazine (read up, folks!), but even if I hadn't have been, you better bet that my creepy cornering of each designer one by one to fawn all over their collections, their talent and their general being would have happened anyways. I confessed to Erdem that I cried while style.com-ing his last collection to which he good-naturedly replied by questioning my sanity. Giles and I got to talking about squirrels, which of course, I thought, was an appropriate time to tell him that I had some living in my roof. "You better take care of those nasty buggers," he said. "They're vicious!" I had quite a lovely and lengthy chat with Mary Katrantzou, whom I worship like no other. I'd be convinced that we were best pals if I hadn't been a) stepping on her bag all night and b) constantly alerting her to the fact that she was indeed, Mary Katrantzou. Oh and also! I didn't have smokes for Marios Schwab so what did he do? Found ME some!
I should add to this little blurby that I was not, contrary to the way it may seem, inebriated beyond repair. I was simply a little bubbled with a whole lot of wow wow wow stimulation! You believe me, right?
Earlier that night, I stopped by Ashley Rowe's psychedelic themed presentation, which featured pairs of blissfully dazed models gliding around a candle lit bathtub against a dimly lit smoke-like projection. Like the most intense version of any day camp pastime, Rowe had tie dyed long and loose sweatshirts, t-shirts and dresses in a kaleidoscope of rainbow colours. Having gone through my own reappearing hippie phase earlier this year, I was shall we say, grooving off of Rowe's overall vibe.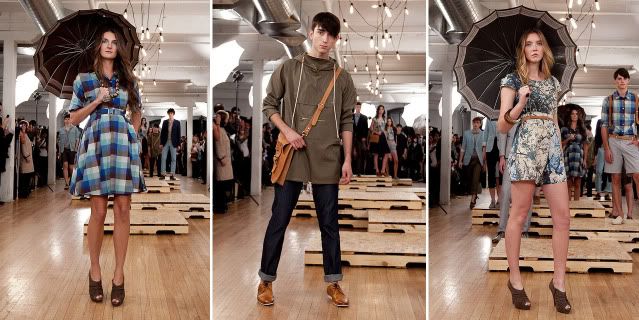 Not to be overshadowed, Philip Sparks made quite a few ladies smile with their eyes (get it? Tyra?) on Wednesday, when he launched his first foray into womenswear. Hip hip hooray! Appearing alongside his signature menswear, the mini collection was quite the literal translation of how the Sparks man would dress if he was a women: peppy, polished and punctuated with punches of laid back plaid. Perching vintage umbrellas at their shoulders, I couldn't help but think that one of the models was going to break out in her rendition of Debbie Reynolds in Singin' in the Rain. Full of well crafted and wearable pieces, Sparks' first kick at the womenswear can gave the appearance of an already well oiled machine. Bravo!