There's a whole lot of coddling that goes on within the Toronto fashion scene. You know like, "well that was nice… for Toronto" or "she's not trying to be the next Jean Paul Gaultier". Maybe it's actually not coddling, its just delusion. Or that good ole' Canuck sense of scaredy-cat niceness? Either way, it basically makes me want to vom, and since I'd rather not send out some serious hate vibes on my blog after seeing The Social Network, (maybe I'm a little scaredy-cat myself?), thank god there were some killer shows to end the week on a high note.

The scene's most notorious macabre draping non-brothers, Mikey and Drew Thomas, held their first official show, featuring quite an expanded collection of black and white (duh) separates that we were left to figure out – in the best way possible – as androgynous models seemed to glide by to creepy murder scene buildup music. The whole thing reminded me of the inner-Thomas-circle, especially one of their best gal pals, Sahar Nooraei, who kills it on asexuality, punk and sophistication all at the same time. My fave pieces were several of the long trompe l'oeil button downs which sewn together with partially hanging layers. The sleeves were in the back AND the front!
Rita Liehebber also showed for the first time during the official schedule, yet maintained a total grassroots feel by opting for a presentation on the runway, rather that parading down it. The sea swept collection of drip dyed tanks, throw-on dresses and holey knit vests were shown alongside yet another of Eva Michon's videos, which this time featured ghostly reverses of a model's face, which faded, into one another like a psychedelic trip.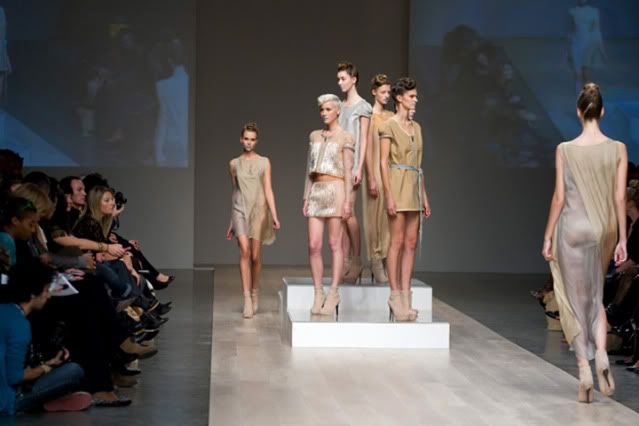 Amanda Lew Kee was by far the biggest surprise hit of the week, who swapped her typical LBD meets Burton aesthetic for a light and airy collection of thinly layered peach and taupe dresses, leather minis and demi-suiting with metal details. Styled with a sky blue pout worn by models, the designer herself as well as friends and supporters, the whole thing had that je ne sais quoi feel that you just know is going to punctuate the season.