For those of you Torontonians who may find yourselves a bit behind the times, I'm going to let you in on a little secret. We have a vintage mini mall right in our own hometown! Yes, that's right folks, 69 Vintage's little sister (all grown up now!) just went through a major reno and built herself a fine little empire at 1207 Bloor Street West (still at Lansdowne, just across the street)
With not one or two but three stories of vintage shops including Lost + Found, Promise to Repeat and Stacked as well as a main floor of Kealan Sullivan's typically awesome finds at 69 Vintage (oh and don't forget Buy the Pound in the back), the place is like a goddamn treasure trove.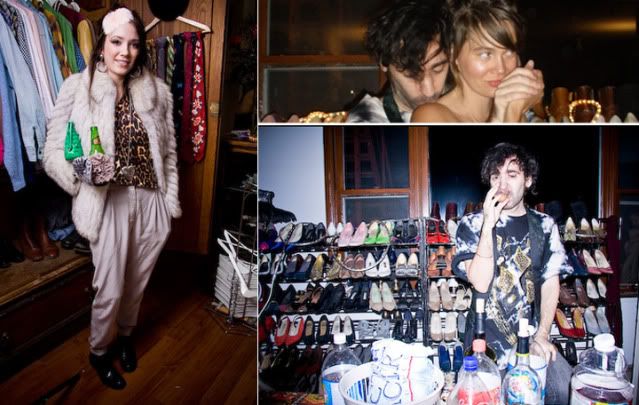 'We all pick a little differently', is how Lost + Found's boss, Leah Gust, explains it. (Wait, this just turned into an article. Sorry) Wait, but they've also got goddamn vintage inspired sewing classes in the Make Den downstairs! (My friend Irene runs them, I swear she's a pro).
The store has been baby-stepping for a few months now, but last week was the official launch party. Innocently, I entreed thinking I'd leave with a buzz. Obviously I ended up with a purse that has turned out to be mightily impractical when accounting for modern day necessities (ie. does not allow for frequent Blackberry scrolling in-purse while sipping coffee)
If you are in the area you HAVE to check it out. The main store is open Tuesday-Sunday but all shops should be open on weekends! And don't forget to bring the dolla dolla bills y'all. Not all stylish chickadees can take Visa.
Party pics by Lynsie Roberts (www.lynsieroberts.com). The shitty ones are by me!