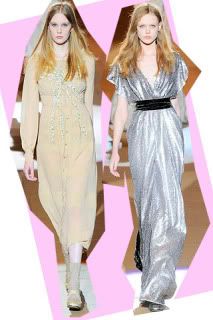 Day Five:
Marc Jacobs
For the first season in like a bil, I didn't have a complete faclempt-attack or mental breakdown on Marc Monday. Fall was easy on the eyes and easy on wearability (or at least dreaming of wearability) - just the way I like it once in a very long time.
See what I thought about the hyper-innocent makeup:
http://www.interviewmagazine.com/blogs/fashion/2010-02-16/marc-jacobs-beauty/



Day Six: Rodarte

Jesus, this was a great collection... actually it was my fave of the week. I love that the Mulleavys were back in the romantic realm of their first few collections and I also loved the Texan Spanish Mexican narrative.

I make a little more sense here: http://www.interviewmagazine.com/blogs/fashion/2010-02-17/rodarte-nyfw-fall-2010/










Day Seven: Proenza Schouler

What the hell is it about a Proenza show that makes everything look hyper-familiar and just like you've never seen it at the same time. There were definitely shreds of it-girls like Alice, Chloe, and hell, even Lauren SD, but then there were those holy shit aspects like fun fur on varsity jackets and jagged swirl printed baby-doll meets sexpot dresses that made you do a quadruple take.