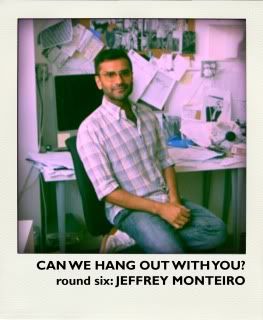 Here at The Katie Girls, we like to celebrate two things: 1. talented people that happen to be our friends and 2. exciting fashion news that somehow involves fashion icons of years past. The lovely person and recent news about Jeffrey Monteiro embodies of those things.
The Middle Eastern born, Australian raised, London educated designer has quietly been building a reputation over the past almost-decade for soft tailoring, romantic draping and a penchant for the masculin-feminin mix while holding top design jobs at cult houses Mayle and Derek Lam. Just over a month ago though, came the biggest coup. Monteiro was named the newest designer to take hold at the legendary house of Bill Blass. Though the house has had its share of tough times, the time for a full blown Blass renaissance has come, and Jeffrey has been touted as the man to start it (and keep his eponymous line too! Sheesh!
I've been jumping for joy since I heard the news, and so what did I do? Shower the man with questions, of course! Enjoy, Katie Girls!
I'm sure you've got lots of thoughts running through your mind about your new gig at Bill Blass, which are the ones that keep you up at night?
How to do justice to the legacy that was Bill Blass - at it's best.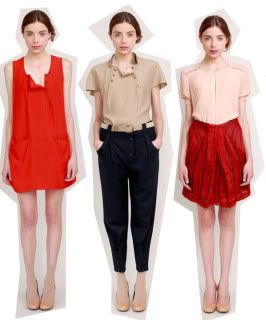 What do you admire most about Bill Blass as a designer?
How he was able to always design for his customer and the woman he surrounded himself
with. He didn't want to alter her in anyway. He just provided stylish clothes that allowed her to be who she was - elevating her enough so she would shine. His collections were always strong because he was so clear about who
she
was.
I love his quote when people asked him what he did "I am in advertising"... He epitomized the word dapper, not only his own persona but that of this work.
You've worked at different houses like Mayle and Derek Lam before as well as being the master of your own domain with your own line... what are your thoughts about each? Each experience is so different and you learn and grow from each.
Mayle was a small, independent company. It was very hands on and renegade in a way, doing things differently but having to fit into the system. Derek Lam was much more of an operation and on a very different level. With shows and much more of a corporate mentality. With my own line I strive to find a balance between my last two work experiences.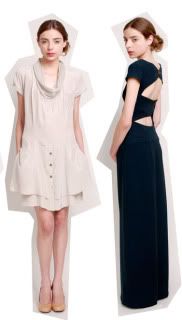 I remember that you were moving from the city to Brooklyn or the other way around, where are you living now? Where are your favorite hangouts in the area?
I have lived on Manhattan for 7 yrs now moving back into the city from Williamsburg. Starting in the East Village and slowing moving further south over the last few years. I currently live on the far east side of the Lower East Side near the East River. (That's a lot of Easts) I love it. It has the feel of Brooklyn. Very neighbourhoody , and residential but you don't have to cross the river.

Favorite places that I love to go to in the hood - Zafi's Diner next to my apartment building. It's an authentic slice of old New York.
Bacaro for the mushroom gnocchi and a glass of wine. Brown Cafe- for the best coffee and banana muffins below Delancey St and Project No. 8b for some fashion indulgences.
What turns your crank about fashion... ie. why did you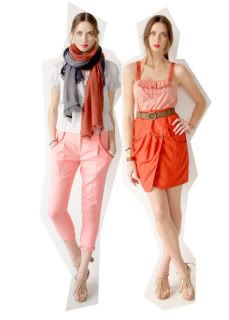 want to be a designer?
It's all LOVE. Whenever I feel a little tired there's the next season to get on with. It keeps you motivated to make the next collection stronger and better. I love the pace and it's a way of telling a story and communicating.
Are you ever jealous that you can't wear your own designs? Ever thought about designing for men? I would love to do menswear and each season I think, I am going to do it. But then the women's takes precedence. I have been working on expanding the women's line with shoes so when I feel like that is fully set up. I'll tackle menswear. Maybe next season ;)
What's your favourite band? song? Of the moment - Bat for Lashes most recent album - love that Natasha Khan.
What is your standard uniform? Levi Jeans, Calvin Klein White or Grey T-shirt and trainers, a Margiela sweater for those chilly days and a custom shirt Made In Vancouver if I have to impress.
What is your current mood or inspiration? What can we expect to see in your first Blass collection?

Bill Blass... it's a secret (but I am inspired by the character in Jacques Demy film - Bay of Angels) For Jeffrey Monteiro Fall Collection, the collection takes inspiration from Robert Polidori's photo's of Versailles in the 80's during a renovation.
The weather on the East Coast is so gross right now... what are you looking forward to most about Spring? Being able to ride my bike around the city again and the cherry blossoms in April.

Can you describe your style without using phrases like boho chic,
old Hollywood glamour or anything with a twist? Eclectically sophisticated.
(In case you were wondering, photos are of Jeffrey Monteiro's Resort and Spring 2010 collections)