Designers have become experts when it comes to bottling vague and random influences into stellar collections that may or may not actually look anything in reality like what they do in their minds. Anything from an Antonioni film to the lengthy neck of a tribally dressed African woman can be transformed into simple tees and short shorts. travel is a big one and as of late, my interest has been especially piqued by the constant recurrence of Southwestern locales, one such being Death Valley, California. Maybe it's just that I've become personally obsessed with the area as of late, but the place seems to fascinating that I vow to hit it next time I fly Westward. Sandy dunes as far as the eye can see and a topography that can only be compared to that of the Middle East - all located in Cali!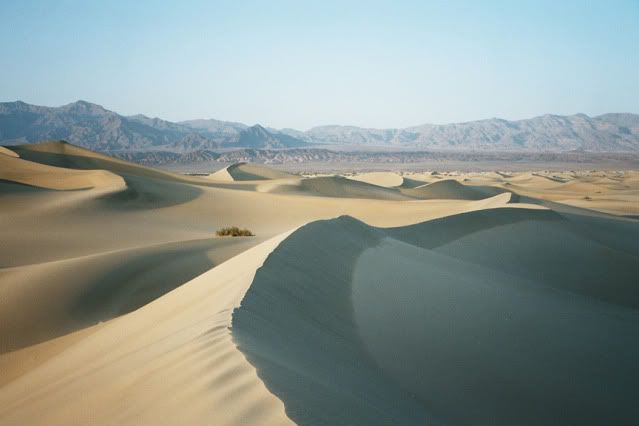 Lisa Mayock and Sophie Buhai often pull from the Southwest, and I spose its because they hail from Pasadena and Los Angeles. Resort 2010 was no different, as they referenced Antonioni's (I wasn't kidding.. ) 1970 Death Valley-centred film,
Zabriskie Point.
To my eye, I can't make the connection beyond the fact that the collection is full of easy, safari/vacation inspired pieces that feature slightly Tex Mex looking patterns... but I don't think I really care. I want to buy it all. Would you?
Fellow Pasadena natives Laura and Kate Mulleavy are similarly Southerwesternly inclined, most specifically with their Spring and Fall 2010 collections. For Spring, the sisters took a characteristically dark take on Death Valley, recalling its 'singed earth' by burning, ripping, sandpapering and painting cheesecloth, wool and leather. The models basically looked as dead as the earth, and certainly too dead for the rest of the state but not my closet, right?