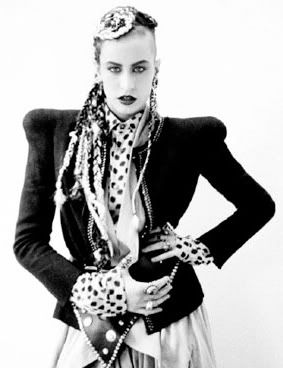 For any vintage addict, (including both us Katie Girls) who is familiar with the phrase, "but what am I going to do about those shoulderpads?", the fact that uber exaggerated shoulders are back with a vengeance (pictured here on the lovely Alice Dellal in the latest issue of
Metal
Magazine) is just as much about practicality as it is about awesomeness.
We used to enter thrift stores, armed with an imagination...not only for what we were going to pair with our delightful findings, but for what our purchases were going to look like, minus a small shoulderpad operation. But in the eighties-tastic climate of Balmain, Gareth Pugh and Maison Martin Margiela's recent efforts, it seems that we're going to have to do no such thing any time soon! Hurrah! Without us even asking, the fashion gods have turned DIY into RTW! (get it? water to wine?)
Take a load off Katie, you shouldn't have to wrestle with scissors and lining for at least two seasons...
ps. we stole this picture from Metal Magazine