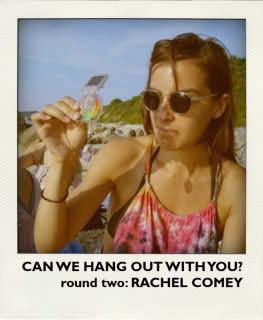 Whenever us Katie Girls discuss the next round of Can We Hang Out With You (which would by now actually only be twice..), we can't help but get all giddy. I'm thinking it's because the interview is like the proverbial yes to our question...right?

We are such nerdy fans of Rachel Comey that when she gave us the proverbial yes, we couldn't help but think, 'wait...really?' With her signature eye for oddball mix n' match and easy breezy sex appeal, Rachel has managed to become the go-to designer for every cute girl this side of 14th Street.

Here's what the lovely Miss Comey had to share with us hopelessly devoted Katie Girls!
What's your line all about? My clothes have always been about the in-between spaces: in between urban and pastoral, simple and ultra-detailed, quiet and loud.

What did you study in school? What did you do before you were a designer? I studied studio art - specifically sculpture. This was good training for me because you learn how to use your hands and brain together. Colors, composition, details, thematic ideas - all these are things that art teaches us.


We saw the piece the feature in Domino (RIP) about your amazing house in Long Island. We refer to it as the Rachel Comey Dream House. Can you tell us a little about it?
It's real! It's a former laundry on a sometimes quiet sidestreet of Greenport, Long Island. Before me, it belonged to the artists Rob Pruitt and Jonathan Horowitz who put a lot of TLC into it. I put a lot of cacti into it and a beautiful blue couch. It's a great escape and a fun place to entertain guests. Last summer I hosted the first annual Greenport Cup tennis tournament there. We played round robin doubles on the local high school's courts. It's surely not a Hamptons scene!
You've been involved in so many different art projects, what's your favorite project that you've ever worked on? It's hard to privilege one over the other, but one that sticks in my mind and in my heart was a commission to make a costume for a Swiss avant-garde orchestra conductor for the premier of a new composition. It was directly after September 11th (and my first menswear show), and everyone was raw and emotional. I made a formal jacket with tails and covered it with the dust from the twin towers, so when the conductor waved his baton leading the musicians plumes of dust filled the air like ghosts.

Can you describe your style without using phrases like boho chic,old Hollywood glamour or anything with a twist? Loud Acoustic!


Is being a designer and owning your own business really all it's cracked up to be?
When it all comes togeth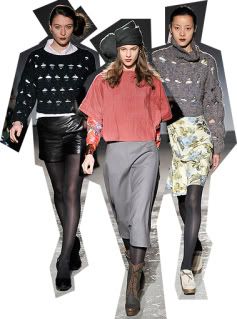 er and you see your work out there in the world, then YES. When you're all by yourself in a Peruvian factory with a stack of unpaid bills...YES, even then.
It seems like you would ride a bicycle. do you?
In Greenport only. I walk faster than most bike riders and I'm not afraid to take a cab.
Name another designer or artist who you think is the bee's knees
. H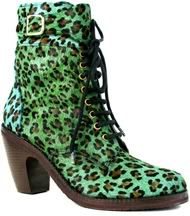 mmm, I like that new collection, Tao. Its funny and beautiful and full of stories.

We, as well as like everyone else in the universe, are 100% obsessed with your shoes. when and why did you start making them? The shoes started happening around 2004. I've always collected vintage shoes and have a kind of odd-ball eye for unusual footwear but I just wasn't seeing enough interesting stuff. When you have to dress models for the runway, it helps to have your own shoes. Now the men's shoes are really taking off too which is exciting.
ps. we stole these pictures from refinery29 and style.com