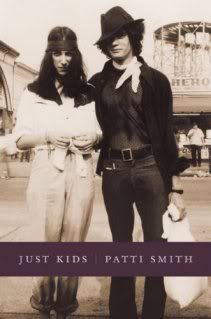 The one thing I hate about reading a good book is that I seem to zoom through the lines and pages until the words basically slip through my fingers. Page 100, page 200 and then oh, shit... the void. This is the kind of experience I had while reading Patti Smith's recently released memoir of her life with photo god and unfortunate 80s-death-by-AIDS poster boy, Robert Mapplethorpe. While their relationship, first as lovers and then as friends, spanned almost three decades, Patti focuses largely on their first years together, when the two, mythical in their own right, waded the waters of the legendary New York scene in the late 60's and early 70's. 'Elders' like Andy, Holly, Lou and Bob weave in and out of the plot, catapulting the two into the big time.
I love that Patti shares the early years so candidly, that the two had nothing but each other, that they were so broke they could barely eat but managed on dreams alone. It's as if she's coaxing creativity, right? That after years of working in a creative field that's certainly not even close to as simple as 1-2-3, passion and undeniable talent really do get you somewhere! (It might not be the Chelsea Hotel, but it may just be Brooklyn, if you're lucky)
In honour of the volumes of work that the two produced together, check out some of my favourite Patti by Robert portraits below! No doubt you'll recognize some of her classic album covers (Horses, Wave etc), but knowing that these came out of the loving gaze of a friend is even better.