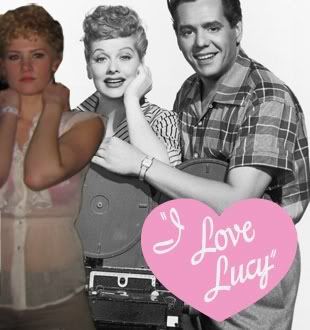 While out and about on what ended up being a bit of a hazy night, I found myself doing some impromptu trendspotting. There was a certain girl I noticed as soon as she walked into the room. In true Katie Girl fashion, I promptly began stalking her with high hopes of getting some sort of picture of...her hair.
What Agyness did for the pixie cut, and what Tao Okamoto is presumably doing for the bowl cut, this girl may soon be doing for what we'll call the Lucy cut.
Despite the fact that so many of us couldn't pull off this look — and I won't even mention upkeep — there's potential here for something seriously adorable. Picture it this summer, with a big floppy bow, checkered button-up, jean shorts and either Keds or sandals. Pictured here, Lucy and Ricky are practically sauntering down Driggs after a late brunch.
Maybe it's not for either of us, or many of you, but we think there's some definite steam behind the Lucy cut. After all, who doesn't love Lucy?