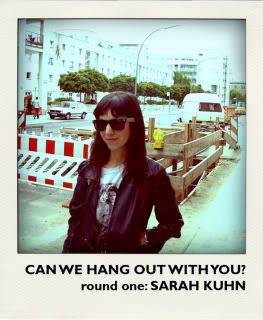 Whether we're spending endless nights trolling the internet for party recaps or actually attending and staring around the room of those parties thinking 'hey, wanna be besties?', it's pretty safe to say that we, like most of you, are crushing on a lot of the people who cohabit the industry we call home.

In that vein, Can We Hang Out With You is a section dedicated to those that we have the pleasure of knowing who happen to be so freaking cool that we just want to, well, hang out with them!  

It was a no brainer to choose Sarah Kuhn, Teen Vogue's Accessories Editor and all around Katie Girl as our first matinee idol. Aside from her enviable posish, we both totally dig Sarah's style, creativity and warmth. Plus, she's in a band!


Because we love her, we put her to a quick q&a session...here's the result!
What is your job title, and what does it mean? I'm the Accessories Editor at Teen Vogue. It means I search for all the jewels, socks, belts, hats and sunglasses for our photoshoots.

What did you study in school? What did you do before you worked at Teen Vogue? I studied Russian, Middle Eastern and Fashion History as well as Theory...after that I wrote fashion, art and music reviews, assisted stylists, and worked in a vintage store.


What's your favourite collection of all time? (so hard!) I loved the velvet and leather dresses from Christoper Kane's fall '07 collection.
What has your favourite career-related experience been so far? The people I have met and all the trips to Las Vegas (really!)
We hear that you've lived all over! Give us a short version of that story... I was born and raised in Nashville and have lived in Brooklyn since '03. In between I was in Israel, Ohio, Philly, Boston, Cali and London.
What do you love about where you live now? I love South Williamsburg. I love my house. The JMZ beats the L train. Trophy Bar is fun and Mexico 2000 is delicious. My bodega is also the friendliest.

Can you describe your style without using phrases like boho chic, old Hollywood glamour or anything with a twist? Avoid phrases? How is that possible? ... All I can say is I have been into recession chic long before the economic crisis of '09.
Tell us about your band!
There are three of us. A triangle situation… We are called Left Coast. We are a little dark and hypnotic. There are some dub, drone, psych and other influences going on...
(
http://www.myspace.com/xoleftcoast
)   
What would you be doing if it weren't for your current job?
Making more music and art.
If you had to choose...MET or MOMA?
I am planning a trip to the MET soon to check out the Arts of Africa/ Oceania section. Want to come?
(photo credits: christopher kane fall '07 pictures via style.com, sarah's picture via the sartorialist, band picture courtnesy of molly surno)