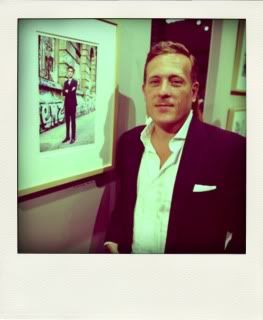 Can we just talk about how that heading is really exciting for a sec? Like, Scott Schuman...on the blog...for realsies!
So anyways, the totally awesome Scott (otherwise known as
The Sartorialist
, for those of you know don't know) was hanging this side of the border on Tuesday to celebrate an exhibit of his photos at
Holt Renfrew
slash pimping his new book and I was lucky enough to chat with him a few hours before an incredibly alcohol-fuelled cocktail party later that evening (although I kinda wish I remembered some of those witticisms as well...)
And because I didn't get too many great photos of the actual exhibit, these are some photos of our friends and favorite people who were lucky enough to have caught Scott's eye...enjoy, Katie Girls! Enjoy!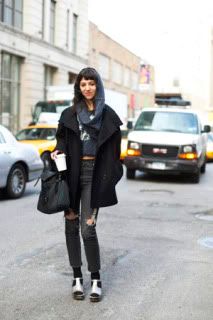 Do you remember that Michael Kors dinner party at The Royalton last year? Well I was totally following you around like a puppy all night… Oh yeah! Oh Michael, what a character…(imitating) 'Why doesn't everyone come in and sit down' …what a character!"
We Katie Girls took your advice by creating a not-so-obvious blog name because we try to blog about so many different things…do you ever feel like you want to post other stuff than just photos?
I feel limited in a sense that I'd like to write more but when I'm travelling and shooting it's a whole other mindset for me to turn things around. You know
Garance Dore
? She's my girlfriend and I'm totally jealous that she can shoot, illustrate, write. I mean she writes a
lot and is able to do all of them so well. I'm a slightly better photographer but then she's got it all
and
she's more beautiful than I am.
The thing with my life is that I get really photo focused for a while and then I switch and be a little more fashion, that's what keeps me fresh on both ends. On my down time I'm either reading a fashion magazine or a photography magazine.
So I guess in a way, The Sartorialist is about a lot of things…
The number one thing I love doing is just communicating with the audience. Like I've said, it's about fashion but it's not really about fashion you know….its about inspiration.
Are you more aesthetically inspired by people you know or people you don't know?
Usually people I don't know because people you know, then you get to know them too well. I like the romance …like
this guy (points to a photo)…he barely knows any English and the English speaking guy who works at his store knows not to tell me the dumb stuff that comes out of his mouth just to keep the romance of how cool I think he is. And I am cool with that! I don't need to know the real you…I'd rather shoot who I think you are.
I notice that if you tend to favour shooting subjects, you make sure to switch it up the next season…
Sometimes things just ebb and flow. Sometimes people disappear….like the cover of the book Julie. I've shot her a lot on and off and then I didn't see her for two seasons and then I saw her walking down Sixth Avenue and I just told her to keep walking. It made the greatest picture. It's actually rarely an outfit that turns me off of shooting someone, sometimes the light's not right, or I'm just not on. It's not so much about favorites as it is about the best shot…
Can you tell when people are trying to get you to shoot them. I've totally tried to awkwardly pose in front of you…not going to lie.
People realize they can't use their influence to get on the site. That's why there's such a level of integrity and people really love it. And I'm kinda shy anyways…if I feel too much of that, I just shy away. The first day of
New York Fashion Week is always like that. I know now people know what I look like and I'm conscious of that. Usually, when I'm walking on the street I still feel a little separated. I try not to notice it either way.
You are such a lover of New York City and so are we! If you had to choose, which do you like better, Chrysler or Empire State?
I guess the Chrysler Building…is that right? Did I win anything? Did I win one of the buildings?