Jeremy Laing is a pretty serious designer. Seriously amazing is one thing of course, but he's also introspective where needed, to the point and non dependent on affected awkwardness, uber-hipster tendencies or the word 'like' (he's got me there, that's for sure). Still one of the only internationally acclaimed still-based-in-Canada designers, the wonder boy was ahead of me by a few years at fashion school in Toronto and people were still talking about him. His impeccable tailoring ability, his sleek geometric aesthetic, and most of all his quiet ability to get attention.

These days, I'm still fawning over Jeremy. At parties I'm always awkwardly waving like "remember me? please?" Thankfully, he ignored my lameness for long enough to talk to me about his latest collection, growing up wanting to be an artist and his favourite bands at Coachella. Enjoy!



Your fall collection was definitely one of my faves so far - but I thought it was quite a divergence for you, with all the fur and textile use and what not. Do you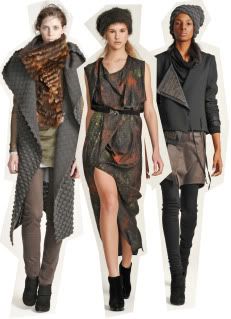 agree? Did you do it intentionally?
I think it was an evolution, certainly, and on purpose, but not divergence. A lot of the shapes and construction methods are variations of pattern-making techniques I've been developing season after season. We did use more fabrics, and more prints, in order to create a rich and layered palette, and in terms of new categories we added both fur and knitwear, as well as a range of tees, all of which have been performing really well.
If you had to pick your top three influences for yourself as a designer, what would they be?
method, material, and make.
Did you always want to be a designer or do you look back and kinda go, what
the hell?
I always wanted to be an artist, in the loosest sense, to have ideas and to manifest them. For a while I wanted to own an antique store, which would still be fun, but would probably be more of an early mid-century design shop.
Frank (Jeremy's partner)
tells me you guys were just in LA, I went a few times last year after having no interest and now I'm totally hooked! What did you think? Was it the first time?
I loved LA, and found a lot of parallels to life in Toronto. I liked how different the neighbourhoods are, how close you are to "environment" be it beach or hills. I could definitely see myself living there, though I would have to learn to drive.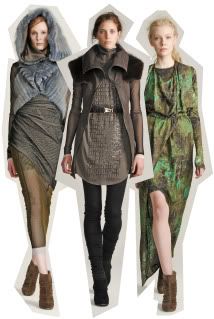 You documented a little bit of your LA experience for
Vogue.com
and included in that journal is a bit about Coachella. What did you like best about the festival?
I love The Gossip, Fever Ray, The Specials, Grizzly Bear and my friend Owen Pallett's show. It was my first time at a multi-day festival and I found it both fun and exhausting. The crowd was huge and freaked me out at times, but the chance to see so many great shows made it worth while. I loved the landscape around Indio, where the festival takes place, and the Palm Desert where we stayed. The burnt brush, wind farms, and the weird oasis of country club golf courses in the middle of the barren mountains were amazing sights.


What's your favourite city you've ever been to? Where have you not gone that you want to go to?
Growing up I always fantasized about Paris, and I do love it still, though it's become a place to go for work, not leisure. I sort of grew up in western Europe, so I've seen most of it, but haven't been very far East. I'd love to go to Morocco, Shanghai, Tibet.
If you could live in any period - when would it be?
Now seems just fine to me!


Are you ever jealous that you can't wear your own designs? Ever thought about designing for men?
All the time! I'd love for there to be something in all this for me! I
get pestered all the time about doing some Mens, and someday I will, for sure.

Who are you favourite designers for men and/or women? Past or present.

I love Dries and Rei, both for their singular vision and the way they run their businesses. I love Balenciaga and Vionnet, M. and Mme. respectively, for their mastery of skill and resulting innovations in construction. I love Westwood for her history of forging her own path. I love Jil and Helmut for their rigor.


You are a famously Canadian designer, choosing to show in New York but never to move. Is it that you love Canada or are you just more comfortable at home?
A bit of all of the above. It would take an overwhelming change in circumstances to move my business anywhere, but even then I might stay. I do love Canada.


What/where do you love about Toronto?
The food, the island, the art and indie music scene.
What are most looking forward to for summer?
Cottage visits, Taco parties on Toronto Island, working on my Spring collection, riding my bike...


Can you describe your style without using phrases like boho chic,
old Hollywood glamour or anything with a twist?
My clothes are for women who don't need ruffles and bows to feel pretty.
*Profile picture by Max Abadian. Collection shots by Thomas Kletecka/Collective Edit