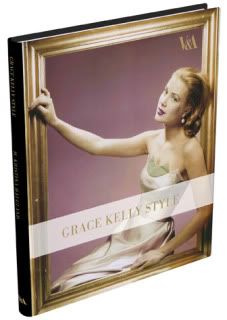 Everything has been coming up All American lately, and while the resurgence of some fashion icons begs the question "Where have you been?" or even worse "Who are you?", the resurgence of Grace Kelly more appropriately begs the question, "Wait, did you ever leave?" Us Postmodern fashion-inhalers have gotten so addicted to trolling for new inspirations, never satisfied enough to admit, "Yes, she was perfect. That's how we all should look forever and ever" that we kind of skip over the basics of glamazon 101, a course which begins and ends with the kind of style embodied by Grace Kelly.
The lovely folks over at Abrams sent me a copy of the new book
Grace Kelly Style,
which accompanies the current exhibit at the V&A in London,
Grace Kelly, Style Icon
which is on until September 26th. Split into the three public phases of Miss Kelly's legendary life, the book profile's Grace's style from her explosion onto the screen as a Hollywood star to her fairytale marriage to Prince Ranier of Morocco to her eventual role as Princess of Morocco. Ranging from her calm and cool tucked sportswear and circular Ray Bans by day to her stunning columnar on set dresses (my absolute fave of which being the dress she gets rip roaring drunk in with Bing Crosby and then Frank Sinatra in
High Society
, designed by costumer Helen Rose) to her opulent and stately royal gowns - Grace's clothes are always flawless, serene, otherworldly. At the very least, flipping through the pages of
Grace Kelly Style
should be a reminder of the pinnacle of glamour. At the very most, Grace brings us one step closer to fashion being considered a religion.