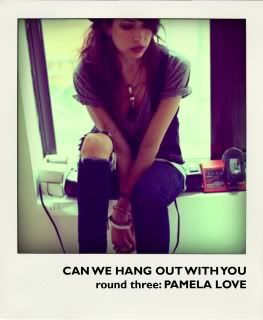 Without a doubt, Pamela Love is one jammin' jewelry designer. Not only does she produce some amazing, hard-edged, Western-ready pieces, but she is also one heck of a girl about town. Aside from being seen at more parties than you can shake a fist at, she also shares a Chelsea studio with Frank Tell and Julia Restoin-Roitfeld (who's apartment we are now obsessed with, by the way, thanks to Todd Selby,
http://www.theselby.com/
).
We were lucky enough to get a chance to talk to the lovely Ms. Pamela, and we found out more than a few interesting facts (hint: she once assisted Francesco Clemente).


Where are you from originally and how long have you been in the big city?
I was born in Brooklyn but I grew up mostly in South Florida. I moved back to New York in 2001.

We think your jewelry is totally rad. Have you always wanted to be a jewelry designer, and did you study to learn about it or are you a self-taught gal?

I had no idea what I wanted to do. I had a million
interests and all I knew was I wanted to create with my hands. I studied Painting and Film
Production in college.
Then, after school, I styled photo shoots for a while and assisted the painter Francesco Clemente. I've always made jewelry in one form or another since I was a kid. I never studied it in school but I have learned so much just jumping into it and working. Every day I learn something I didn't know before.
Please tell us that Love is your real last name. It's so cute!
Yes - it's real!
We hear that you share a studio with Frank Tell and Julia Restoin-Roitfeld. Amazing. What was that office atmosphere like? We're guessing not too corporate...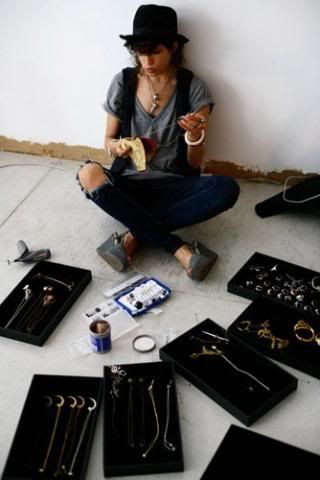 Its just a regular office/studio really. We all do our own thing and everyday is different. Working in a space with other people running different business keeps me in check and motivates me to always be working.
Recently you designed jewelry for designers like Zac Posen, Yigal Azrouël and Marchesa - how often do you collaborate with other designers, and how does that come about?
So far we have worked with four different clothing designers and I am collaborating with another jewelry designer this season as well. Usually, I am contacted by the designer and we just go from there.
If you could work with anyone, alive or dead, who would it be?
The artist Lee Bontecou and filmmakers Alejandro Jodorowsky and Jan Svankmajer.
You're quite the girl about town. For a night out, would you rather wear

a) heels with socks

b) scuffed-up boots

Boots
After you've decided what shoes to wear, what are your favorite new places to go out?
I usually like to stick to my neighborhood so I go to Daddys in Williamsburg and also Enids in Greenpoint.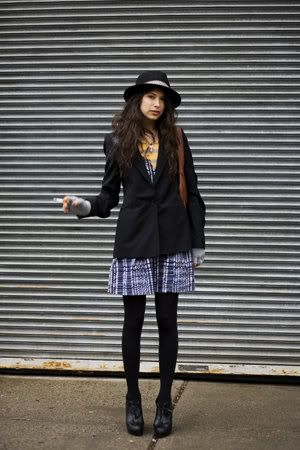 And finally...

Can you describe your style without using phrases like boho chic, old Hollywood glamour or anything with a twist?
I would say I dress pretty casual most of the time. I like contrasts (masculine and feminine, high and low, messy and clean, dressy and grungy, etc.)


A Brooklyn girl by the name of Love who taught herself the tricks of the fashion trade? Sounds like a Katie Girl, fo sho.

ps. we stole Pamela's collection images from Refinery29