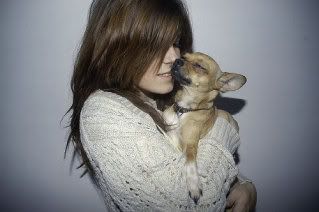 While busy Face-stalking the other day, I came across one of the raddest photos I'd seen in a while. I assumed it was a tear from
V
or
Dazed
, but lo and behold, it was actually the work of almost-Ryerson-grad, Meghan Roche!
The first thought that crossed my mind was that this was early Christopher Kane...and it's actually no wonder why. Meghan interned with him in London last year. And wait for it...he's offered her a job for next month! (this is kind of making me vom a little...)
Meghan's final collection is entitled
30 Colors
, because of the 30 colors that appear within the five-pieced collection. (one short of Baskin Robbins status...) The dresses, which are almost entirely constructed of pleating, each feature six contrasting colors - none which repeat. With the help of some sick styling and photographing in the shoot below, Meghan's collection looks like something out of an acid induced origami lesson. I want innnnn...
Meghan's collection shot is by Justin Borbely