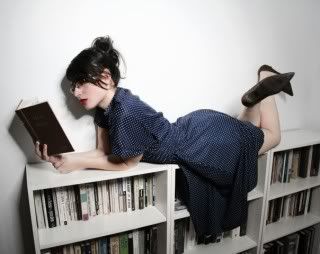 I think we've established that I think my friends are exceedingly cool. So much so, that I just want to talk about them as much as possible. Well, Chandler Levack is yet another awesomely talented friend on my list. A newly inducted staff member at EYE Weekly in Toronto, Chandler gave the most amazingly hilarious and SO TRUE lecture entitled
'Dawson's Creek Ruined my Adolescence'
a few months ago - which she's generously let us republish. Since Chandler's brilliance spews over the typical reading time a fashion blog reader can handle...we're going to do this in two parts. Stay tuned for part two!
Here's what Chandy (as I like to call her) has to say about said lecture:
In December 2008, I did a lecture at Toronto's only unqualified lecture series, Trampoline Hall. (trampolinehall.net) Lauren Bride, who is the best person ever and a tremendous writer, curated the event. There were buttons with my name on it, auctioneering of said buttons, a discussion of lucid dreaming, and during the Q&A it was debated amongst my friends and family-members whether I had really gotten over being uncool in high school and had "already peaked" onstage. As a result, I got really drunk and wrote an exam on "Madame Butterfly" the next day, which mostly made me think about that Weezer album, convinced that "El Scorcho" was always going to mean rejection.
And without further adieu, here it is!
Dawson's Creek Ruined my Adolescence: Part One
I always say that there are two kinds of people in this world: Lou Reed people, and David Bowie people. You are either New York or London, bisexual or transsexual, Warholian or Ziggy Stardust. The same applies for late 90's teen WB melodramas. This lecture is not about Buffy The Vampire Slayer, whose supernatural sophistry underscored the vacancy of its own bullshit. This lecture is for Metal Machine Music. This lecture is for Dawson's Creek.
During an eight-year period between Grade 6 and Grade 11, I watched Dawson's Creek with the kind of fevered devotion I'll probably never feel for someone I'm in a sexually committed relationship with. It got to the point where my mom was literally banned from the living room, for fear that she would interrupt a pivotal plot point, calling out in her token embarrassment falsetto: "Oh Pacey! Oh Dawson! Sail me down the river!" No, the TV was mine between 8 and 9 p.m. on Wednesday nights, and so was the fictional landscape of Capeside, Massachusetts that so captured my imagination.
For those who never got their feet wet, Dawson's Creek debuted on the then-fledgling WB network in 1998, pitched by "Scream" screenwriter Kevin Williamson to 90210 exec Paul Stupin as "Some Kind of Wonderful meets Pump Up The Volume meets James At 15 meets My So Called Life meets Little House On the Prairie." Chronicling the hopes and dreams of four verbose upper capesiders, the adolescent upheavals of sex, midterms, and artistic integrity – but mostly sex - were challenged and reconstituted throughout its six-season run. There were four main characters: Dawson Leery – a sensitive, sandy-haired aspiring filmmaker in the Steven Spielberg vernacular who is best friends and star-crossed lovers with Joey Potter – a tempestuous tomboy with a drug dealer dad who loves Dawson so much she decides to skip a summer abroad to Paris to pal around in Capeside. (Seriously, does anyone in television ever realize this never works out?) The pilot opens with Joey climbing through Dawson's bedroom window with the help of an on-suite ladder –yes, Capeside is this idyllic – as they enact their nightly bedtime ritual, bickering about E.T., lamenting their virginities, and ignoring the crushing reality that their growing hormones make it impossible for them to fall asleep. Dawson is restless and confused, he lusts after Jen Lindley – the seductive new girl by way of Manhattan with a bad girl past - as Joey spars with Pacey Witter, the rakishly handsome wiseacre who loses his virginity to his high school English teacher. Dawson's Creek illustrates that when you're fifteen you can't ignore the fact that things are changing, that your parents aren't treating you like a kid anymore, and that the only way to hide your raging erection is to accessorize it with a waist-tied over shirt.
As Kevin Williamson confessed, "It's my childhood come to life, but now I get to go back to these places and create these situations where I can change the ending, and have it turn out like I wish it would have." Though Katie Holmes would end up married to the craziest Scientologist in all of sham marriage history, while Oscar nominee Michelle Williams grieved the untimely death of her hottie Australian husband – Dawson's Creek harkened back to a simpler time. More importantly it encapsulated the central problem in both my life and Dawson Leery's – the inability to separate reality from fiction.
Did I mention that I'm a film student? I've spent the last five years in darkened theatres perfecting my Anna Karenina impersonation ("Je ne sais pas"), writing term papers on movies no one should ever have to see. When I was fifteen and wanted to be a filmmaker, (this after my stand up comedian phase but before I considered grad school), I framed conversations with my hands. In a film, you can end a relationship with a beautiful person and cross the sidewalk dejectedly, the strings swelling while the sun sets behind you, as the screen gently fades to black. In real life, you have to keep walking, hail a cab, go home, take a shower, read "He's Just Not That Into You", and drink cheap red wine until you pass out. I applaud Kevin Williamson's attempt at revisionist history. If you could rewrite the past to make it more befitting of the present – and cast James Van Der Beek as a wittier, more football-headed personification of your teenage angst - wouldn't you feel vindicated?
"Every idea that I have about it ends up getting really autobiographical," admits Kyle Anderson, the online editor for Rolling Stone and author of "Accidental Revolution: The Untold Story Of Grunge", calling from the house Jann Wenner built. (Full disclosure, Kyle is my former boss and occasional editor. He also wrote the most seminal piece of WB scholarship I have ever encountered, a review of the Songs of Dawson's Creek soundtrack, an album he places amongst his top five all-time albums ever, edging out Notorious BIG's "Ready To Die.")
"I started watching in January 1998, and a few weeks later, just before Valentine's Day, my first real girlfriend broke up with me. (She was never good with timing.) I realized later, watching three syndicated episodes a day during my first unemployed year after college, that those early episodes were always really hard to watch, because I still had all these associations of being broken up with. I hated Pacey because he was getting laid, and I wasn't."
"It's very easy for me to introduce my own feelings and experiences into Dawson's Creek – mainly because it was so boring," continues Kyle. "As weird as it is to say now, I immediately identified with Dawson Leery. He was an artsy guy, he knew that he wanted to have a girlfriend, he was interested in sex – and it scared the shit out of him. Dawson was in a small town that was supposed to be New England, which is where I grew up. He had aspirations and ambitions and he was frustrated by his inability to obtain them. My high school experience wasn't exactly negative, but in the present tense it seems like the worst thing in the universe. My parents never split up, my pets never died, my house never burned down, but it always seemed like I had all this energy, interest, willing and enthusiasm, but no real outlet for it."
Ditto. In high school, I was an overweight band geek, enthusiastic drama nerd, and hyper-virginalized romantic at a small public school in Burlington, with Chet Baker pictures on my locker and Ramones lyrics etched into my heart. Like John Cusack boasts to Lili Taylor in Say Anything, I wanted to get hurt, continually disappointed by unrequited crushes that never matched the full-blown romance of "Let's Get Lost." Where was my soul mate – the one that sailed Joey to Cuba during the third Season finale on a boat called True Love, where they explored Latin America together but waited eight months to go down south because Pacey understood that she wasn't ready to give it up until the senior ski trip? Was I too spiky and obtuse to be loved?
Some may criticize the Creek's hypertensive banality, saying it was a show where nothing (even in the Seinfeld era) happened. But high school is supposed to be mundane. Adolescence is a time for navel-gazing, of being so antiquatedly self-involved that your own belly button lint starts to take shape of one's not-so-distant future. But if I spent my teen years watching a television show about teenagers who watch television – what does that say about my own experiences? Could the Creek be to blame for the fact I didn't lose my virginity until age 20? That I went stag to my senior prom? And that I once dressed like my spinster English teacher for a school-wide twin day – and no one could tell us apart?
My father has a theory, stemming from the semi-paranoid delusion that he is the star of his own television show, that you will only meet so many people in this world: the rest are merely extras. Why is it that we keep running into the same high school acquaintances, unattractive co-workers, and STD-ridden ex-boyfriends? Why does every cab driver and convenience store employee look the same? Does everybody already know everyone? Extras theory dictates that we are predestined to our fates and desires, prescripted by some nebbish Tisch-graduate on his third cup of coffee as everyone else fills in the crowd scenes. It dictates that we can never be the star of someone else's life, or that we can even control our own.
When I was living in New York, I guested on my ex-boyfriend's television show, except the television show was his life. Let me explain. I had been living in Brooklyn for a month, wandering around the Lower East Side chain-smoking cigarettes I was allergic to, stumbling into literary readings at former erotic massage parlors, between my two-day internship at SPIN Magazine. I knew approximately three people in the city and couldn't shake the feeling of a summer wasted. Here I was in Manhattan, living a dream I fantasized about since I heard the opening strains to George Gershwin's "Rhapsody In Blue", reading Haruki Murakami novels past last call at the Union Square Starbuck's, feeling like an extra. "I think I'm failing New York," I admitted to my American cousin Kent, a singer in a fledgling electro clash band named Peephole, in a bar that serves you a slice of micro waved pizza with every pint. "That's how everyone feels," he assured me. Two days later, I would meet Will.
Stay tuned...dear Katie Girls! Part Two awaits!