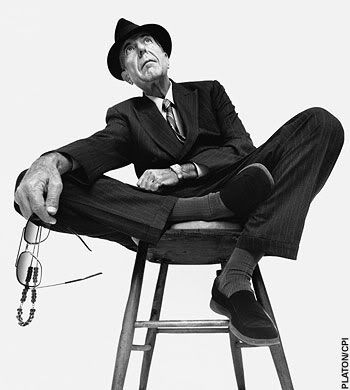 On Tuesday night, ma daddy and I trekked to Hamilton (about an hour outside Toronto) to see the amazing, beautiful, awe-inspiring ladies' man - and let me just say, it was the best concert I've been to in years, maybe even ever, where big venues are concerned. So good in fact, that I doubt my words do it justice.
Not only are his words some of the most perfect ever written, but he's also a better showman at 74, than most people half his age, literally trotting on and off stage at his fancy. Set like a theatre production, the performance was split in half by intermission (fancy!). The second half was what really slayed me, mainly because of an even-better-than-on-the-album Take This Waltz and 2 of his backup singers (who accompany Sharon Robinson), Hattie and Charley Webb singing (or unfolding, as he put it) If It Be Your Will. And as if two full sets werent' enough, he performed three encores!
Having emerged from a somewhat hermetic and money troubled decade with such ability to completely entrance a crowd (myself included) is what's really amazing. At some points his voice is near whisper and it's not like you haven't heard his words over and over, but still you can't really do anything but try to overcome getting faclempt (my dad of course, with kleenex in hand...)
Here are a few of my fave songs that were played last night, although I really can't remember the order....