We've been waiting with baited breath for Marc Monday...the biggest kahuna in a week of kahunas. But what we didn't know was that we'd have so many mixed emotions about what went down the runway. The best evalutation we could hope to offer is what's pasted below...our entire recap on gchat! Enjoy!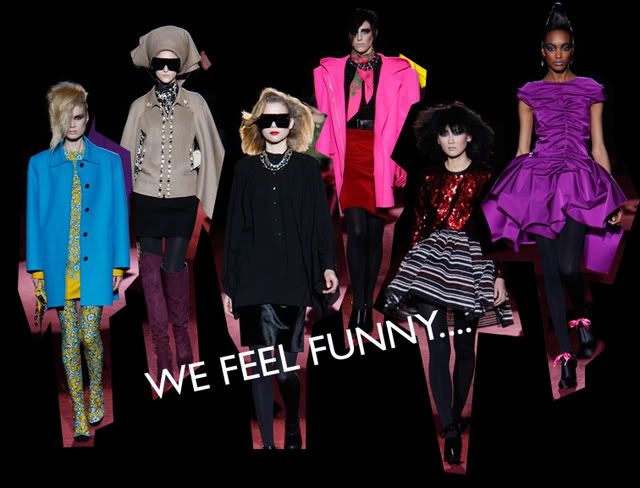 robin: marc is up on wwd!
randi: oooooh! im checkinnnnnng!
robin: nervous!
randi: its soooo....marc by marc?
robin: haha i know like, it is...i love the sweater in 6 and like 11
randi: i love the big shoulders but like...it just looks sooo marc by marc!
robin: it's like marc by marc's mom
randi: haha marc by...deb!
robin: maybe more impressive in person---it got a great review
randi: doesnt he always? the only time he got a bad review was when he made them wait 3 hours!
robin: idk though...it doesnt even feel that much like a collection
randi: ya exactly. i like it...just no whaaam bam
robin: love the look of 27. i do like the presentation though--the diff hair, makeup, general looks, etc and i like the piinnnkkkkkk!
randi: yes totes...i was thinking 27 too. 35 too. this collection is like 80's, michael kors, 60's, marc by marc, balenciaga, big hair!
robin: hahaha
randi: its very all over the place but "thaaaats marc"
robin: i feel like it could grow on me---love the looks, the hair, the pink is fab but in general
randi: ya it always does...we're total suckers
robin: yeah---but almost too all over the place
randi: i dont love the pink actually...its a very teeny bopper in a bad way
robin: like its missing the tiny string that usualy holds it together
randi: ya totes
robin: me likely le pink
randi: but thats whats so great about marc...he makes me want to literally bleed for him one season and the next is like, 'why do i put all my faith in you!' hes like a goddamn cheating boyfriend
robin: in some places it starts to go somewhere but then changes and then you get lost...he's totes a cheating boyfriend. he's too busy laying in bed with that dog and getting more tats: "live blogging: marc jacobs"
randi: HAHAH! no i totes agree - thats how i felt last fall too, i was like stop going to the gym and fucking make shit!
robin: haha no shit
randi: hey we should copy ad paste this into the blog!
ps. we borrowed these pictures from style.com