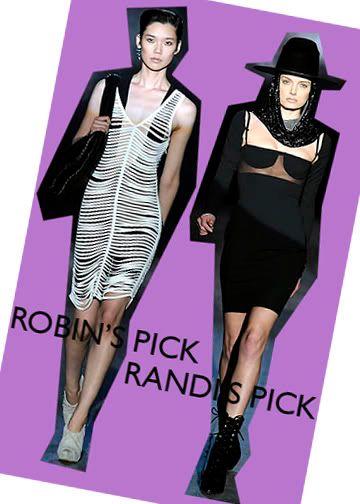 Little Wing Wang, as we like to call him, has done it again. Every season, we hold our breath thinking 'don't believe the hype! don't believe the hype!'...and within five turns of the designer's signature sexy rock 'n roll, the hype envelopes us and we can't help but be outright emotional about his unbelievably cool clothes. This time around, Wang mixed it up with some serious bandage leggings (love love love) and a tailored, lapel-less blazer than felt oh-so-fresh.
Randi's Pick
The Grace Jones undertone of this collection made me absolutely wild and this number in particular really drove that reference home. From the Alaia-esque boob-cups to the glittery head wrap, I totally felt like a a slave to the body-con rhythm.
Robin's Pick


This look really did it for me — sexy, but not too obviously so, and would be great in a variety of lengths (hello evening gown/beach cover up/Friday night). Granted this may not be the most flattering piece for most body types, but there's definitely something about the silly string-esque drape-age that totally works. Also, love the interesting layering with the sexy black basic underneath that had me wondering just how low a tank could go.
ps. we borrowed these pictures from style.com