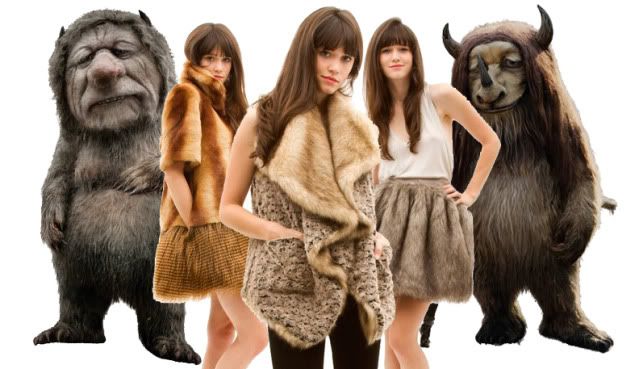 Already poised to take the cake as the coolest kids movie of all time,
Where The Wild Things Are
, has just upped the ante with Spike Jonze's collaboration with Opening Ceremony. Part costume, part stunningly amazing faux fur coats, jackets, dresses and separates…the collection makes me weak in the knees! Especially the reversible vest pictured above centre. Oh and there are accoutrements too! Our girl
Pamela Love
created some seriously wicked necklaces, bangles and rings to match the fuzzy collection.
But realises now, if anyone is looking to get me a half-year birthday present, the vest is a super reasonable $415….available at
http://www.openingceremony.us/
Thanks!
And yet another time for the cheap seats: watch this trailer for the 90th time. Get faclempt. Then look around the room like you were just sneezing.