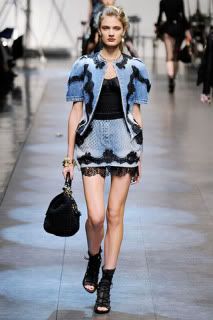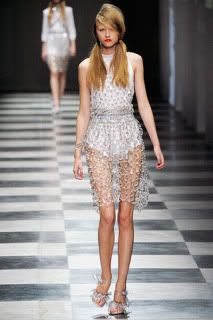 I've been so busy celebrating the new year and fasting like all the other good Jews, that I almost skipped over 1/4th of the Fashion Month equation! So, here's the abbreviated skinny on what killed me....
First of all it totally cracked me up that almost every look on the Marni runway looked kinda like someone who I'd assume really didn't get it (the overwrought striped leggings, the polka dots) yet somehow they really did get it...probably so much more than me. And those shoes! Jesus!
Dolce & Gabbana totally slayed me for the
second season running
, which is amazing considering that I've never considered myself their biggest fan. The Masculin Feminin, the Spanish lace....ohmigod. I was really holding myself back from comparing the collection to Velasquez paintings....
Finally, Prada totally redeemed herself in my books from last fall's dowdy mess. If
Resort
was a little tease...then this collection was the full shebang, from the beach prints to the ridiculously fantastical chandelier dresses. Viva Italia!